Announcements
Tulane University School of Public Health and Tropical Medicine for "Chronic Stress, Existential Stress, and Biological Aging"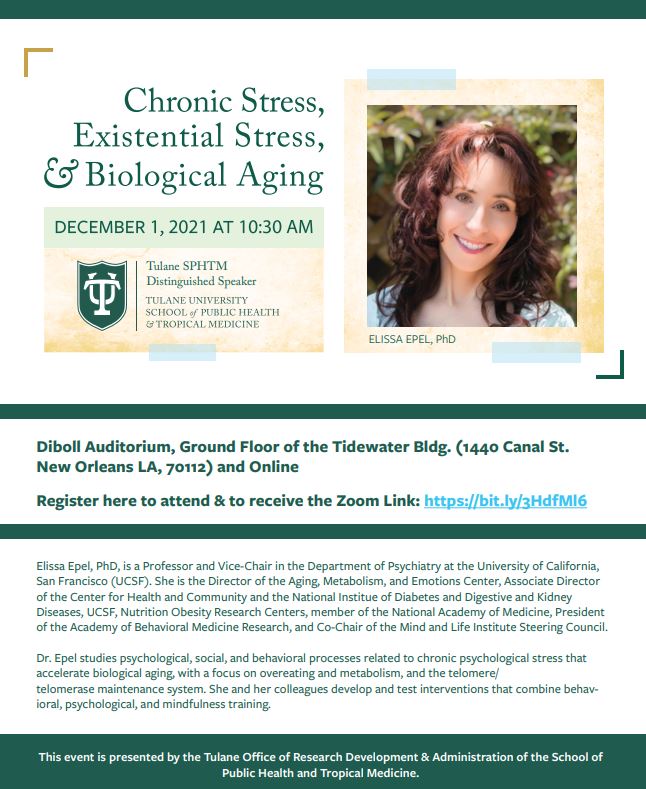 Click Image to Enlarge
Please join the 
Tulane University School of Public Health and Tropical Medicine
 for "Chronic Stress, Existential Stress, and Biological Aging," which will be presented virtually by Dr. Elissa Epel 
on 
December 1, 2021, 10:30 to 11:30 AM CST
. You may register for the event at the following lin
k: 
https://bit.ly/3HdfMl6
Elissa Epel, Ph.D., is a Professor and Vice-Chair in the Department of Psychiatry at the University of California, San Francisco. She is the Director of the Aging, Metabolism, and Emotions Center, Associate Director of the Center for Health and Community and the NIDDK UCSF NORC, member of the National Academy of Medicine, President of the Academy of Behavioral Medicine Research, and Co-Chair of the Mind and Life Institute Steering Council.
Dr. Epel studies psychological, social, and behavioral processes related to chronic psychological stress that accelerate biological aging, focusing on overeating and metabolism and the telomere/telomerase maintenance system. She and her colleagues develop and test interventions that combine behavioral, psychological, and mindfulness training. Currently, she is testing short-term interventions to improve stress resilience and physiological homeostatic capacity, to slow aging. She co-leads studies funded by NIA, NCCIH, NIMH, and NHLBI, including a national Stress Network and Emotional Well Being Network. In addition, she has been involved in National Institute Health initiatives on the reversibility of early life adversity and the science of behavior change.
---
Summer Institute on Biological Approaches in the Social Sciences (SIBASS)
https://www.russellsage.org/summer-institute-biological-approaches-social-sciences-sibass
---
Career Opportunities
November 1, 2021
Mass Spec Tech - Now hiring! The Department of Psychology at Queen's University is seeking an experienced technologist with previous exposure to mass spectrometry equipment for the position of Mass Spectrometry and Lab Technologist.  Please click here for the full details of the position!
---
May 25, 2021
Exciting opportunity to join #PublicHealth in @BhamCityCouncil. This role is more than just a job – it's about making life better for the million people who live and work here. To challenge and influence our need to grow, to ensure that every child, citizen and place matters.
---
May 24, 2021
The Diehl/Plakke labs are hiring a research tech! This is an ideal opportunity for recent college graduates looking to gain more research experience in behavioral #neuroscience - more info and application here: https://careers.k-state.edu/cw/en-us/job/5
---
May 23, 2021
NIA Division of Behavioral and Social Research. We are hiring five Program Officers! Applications are due by May 26th. Learn more about the positions we have available and get links to the USA Jobs announcements here: https://www.nia.nih.gov/news/division-behavioral-and-social-research-hiring-program-officers
---
May 22, 2021
Amazing lab and amazing people to work with! Please consider applying for a PhD position at the  @DondersInst  @BRCnijmegen
---